Customer Research should be a team sport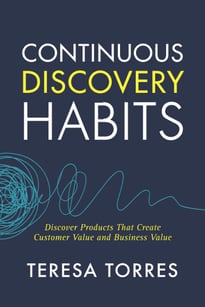 We're huge fans of Teresa Torres. This book provides a great foundation for any team making a product or service that customers actually want.

We're giving away 35 books, so get your request in soon!
This book helps designers, product managers and researchers understand:
How do you know that you are making a product or service that your customers want?
How do you ensure that you are improving it over time?
How do you guarantee that your team is creating value for your customers in a way that creates value for your customers?
Teresa Torres is an internationally acclaimed consultant and speaker. She helps product managers, designers, and software engineers ensure that they are building the right products for their customers and their businesses. She's coached hundreds of teams at companies of all sizes, from early-stage startups to global enterprises, in a wide variety of industries. She has helped over 8,500 product people develop their discovery skills through the Product Talk Academy and is the author of the popular blog Product Talk.
We're on a mission to democratize customer research, and if more teams across organizations engage with customers, then our mission will be realized. We're giving away copies of her book because we believe in her structured approach to continuous discovery, and the more teams that can do research the better!